There is a lot going on in in the Vanderworld today: the looming rivalry game against our hated arch-nemesis, Yew Tee; men's basketball hosts the Illinois Fighting Illini at Memorial Gym tonight; women's basketball routed Eastern Kentucky; and the incoming baseball recruiting class was named the second-best in all of college baseball.
As always, we've got you covered here on S&S. Without further ado, here's what's happening in Commodore Country:
FOOTBALL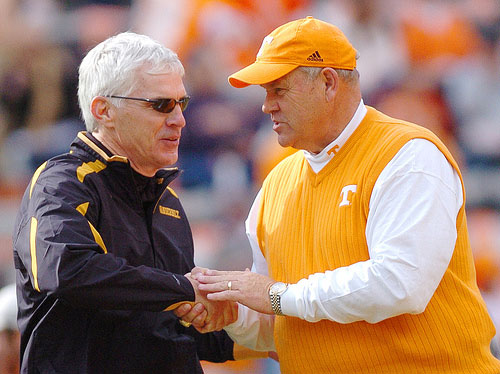 Jimmy Morris looks at the Commodores' desire to beat Yew Tee
, and they see the possibility for "something special" if they can start things right agains the Vawls (can you imagine what a 9-4 record would even look like?).
Randy Moore says the Vawls players will honor Phil Fulmer
with their own special way (I suppose Mr. Moore believes that will be wins against us and Big Blue).
The Mobile Press-Register gives us the stats
on the Yew Tee game (does anyone else agree with me that we should do what Ole Miss and LSU did and get a name for our rivalry game?).
Maurice Patton says VU dares opponents to throw the ball
because of their "gaudy" stats on defense (it should be noted that this is Maurice daring opponents, not the Commodores themselves).
Bryan Mullen makes my day with his headline
: "UT's defense needs lift from offense to
upset Vandy
" (emphasis mine).
Bryan also says a win at VU would feel good for Yew Tee
since they're not doing so hot right now (let's just hope that they're still too busy checking the message boards for the new coach to be paying attention to "little old Vandy").
Wes Rucker compares and contrasts D.J. Moore and Yew Tee's Eric Barry
, who apparently is a lot like D.J. Moore (except that he hasn't won National Defensive Player of the Week twice this season (cough)like DJ has(/cough)).
Mark Wiedmer talks about Fulmer's VU connections
, but doesn't get any Commodores to admit to hoping for a Yew Tee win (they are, after all, Commodores).
Kobi Ankumah has the details on Athletics' plans
to help the Commodore Nation make it to our bowl game (that's right, OUR bowl game!).
David Namm reflects on the Commodores' new beginning
in his
Hustler
opinion piece (that's fairly well-written).
Mike Kranzler gives a senior's perspective on VU's historic bowl eligibility
in this bit from the
Hustler
.
Geoff Hutchinson ranks the SEC, putting VU at no. 5
and Florida at no. 1 (I still don't know how Alabama's offense is going to match up against Florida's defense).
Loss in the Vawls' struggles this year is this little golden nugget
: Yew Tee still hasn't won a road game this year (let's hope it doesn't start in Nashville).
Steve Phillips scouts the Vawls' practice
and Phil Fulmer doesn't think 30-degree weather is cold (insert your own "Phat Phil" joke here -- I don't have the heart to do it since he's been fired).
So does this remind anybody else of Woodyball?
This AP story could be a VU football story
ca. 2001-2004 (this tables-turning business is quite enjoyable).
In case you haven't heard, Ole Miss and LSU named their game
with each other (and to my mind, that
sounds like a good idea
).
The Sports Network gives us the cold, hard facts
about the game, and I was most surprised by how closely Yew Tee mirrors our season-stats (this game is not nearly as "in the bag" as everyone is apparently thinking).
I disagree with Maurice
that this could be our best team (with no offense to our current players -- you're awesome, but so were our national championship teams).
David Rutz notes that Chris Nickson still has a shot
at breaking some Commodore records (and he'll have an extra game to do it, too).
MEN'S BASKETBALL
David Boclair chronicles a happy problem for men's hoops
: Jamie Graham can't practice 'til football's over (and football won't be over 'til we're starting our SEC schedule!).
Aram H explains why Steve Tchiengang has been suspended
by the NCAA (don't worry, we didn't do anything wrong).
The Sports Network previews our game with the Fighting Illini
, and they pick the 'Dores to win.
Maurice, on the other hand, isn't so sure
about a Commodore victory.
Jeremy Warner is apparently fascinated with Memorial Gym
, because he sure does talk a lot about it in his VU-Illinois preview (really, people, this storyline is starting to be as annoying as the "no-bowl-since-1982" storyline has been for football for all these years).
Herb Gould thankfully avoids obsessing about the gym layout
in his analysis of the game.
David Boclair worries about the Illini defense
with our young Commodore squad.
Stu Durando actually headlines his article about this game with the gym layout
-- really?
Mark Tupper takes a different approach on the gym-layout story
, asking someone whose played against VU on it how it was (response: we got killed, so not so fun).
Kudos to Terry Bannon for the best explanation of Memorial Gym's floor that I've seen
in the mainstream press -- and he does it succinctly, too!
WOMEN'S BASKETBALL
Mike Organ says turnovers
led to the Commodores' lop-sided win (yeah, but didn't we force a lot of those?).
Whitney D. has the story
and pictures from the women's rout of Eastern Kentucky (and doesn't the new floor look great?).
David Boclair has a great quote from MelBal
about how the women were so dominant against a team that might have challenged them in the past (and for sure, if we keep beating teams like this, it'll be easy to see how VU was picked to win the SEC -- of course, this is EKU, not UT).
BASEBALL
Tim Corbin has done it again
: our baseball recruiting class is the number 2 best class in the country. Way to go, coach.