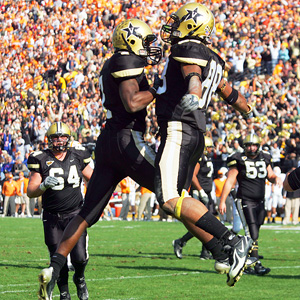 The Commodores have tied their highest ranking since 1960 with a consensus place at no. 19 on the AP, Coaches', and Harris Interactive polls.
But according to some computer-based polls, the 'Dores could be ranked even higher.
Two of the six constituent BCS computer-based ranking systems, the Colley Matrix and the Massey College Football Ratings, have the Vanderbilt Commodores in the national Top 5.
You did not misread that.
I said, "Top 5."
According to its creator Wesley Colley, the Colley Matrix poll has "a typical ranking difference" between his poll and the final BCS poll of "around 1 place, at a ranking of #4, and around 5 places, at #20."
"Here we have a scheme to rank college football teams that is absolutely free from human influence or opinion, accounts for schedule strength, ignores runaway scores, and yet produces common sense results, which at the end of the season compare favorably with the press poll rankings," writes Colley.
The current Colley Matrix poll ranks Vanderbilt no. 2 in the country, based upon an overall rating of 0.863973.
Colley's no. 1, Alabama, has a rating of 0.895386.
The other computer-based poll in which the Commodores are doing well are the Massey College Football Ratings.
The Massey Ratings claim to be "based on win-loss outcomes relative to schedule difficulty."
With a rating of 2.365, Vanderbilt comes in a no. 3 on the Massey Poll, behind no. 1 Alabama and no. 2 Northwestern.
The other two computer rankings, the Billingsley Report and the Sagarin ratings, list the Commodores at no. 53 and no. 14 respectively.