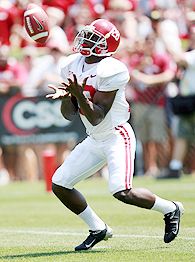 I've been out of town this week and have been meaning to say
something
about the Alabama game (which I had the singular pleasure of attending). But, honestly, what is there to say? The whole thing was surreal - they got some early moment and we stood there paralyzed. Let's just hope (there's that word again!) it wasn't indicative of how we'll play against Ole Miss...
So, same format as last week as we take a trip around the Vanderbilt schedule. The only change is that I included overall point differential for SEC teams (simply points for minus points against):
Richmond
, 1-1 (1-0)
Last Game: W, at Northeastern, 49-14
Next Game: at Bucknell
Comment: Remember Tim Hightower, the Richmond RB who ran for 79 yards on 14 carries against us? Remember how concerned people got about our 'mediocre' rushing defense that first game? Well, against Northeastern Hightower took 19 carries for
246 yards
and 4 TDs. Richmond ended up with 443 total
rushing
yards (with 642 overall).
Alabama
, 2-0 (1-0), +60
Last Game: W, at Vanderbilt, 24-10
Next Game: vs Arkansas
Comment: With Auburn losing last week, the Arkansas-Bama game should say a lot about who the "Number 1 Contender" is for LSU in the West. Woo Pig.
Ole Miss
, 1-1 (0-0), -11
Last Game: L, Missouri, 38-25
Next Game: at Vanderbilt
Comment: The Rebels put up a lot of yards - 534 total - but still fell behind 35-to-7 en route to the loss. Ben-Jarvus Green-Ellis rushed for 226 yards on 33 carries while Seth Adams threw for another 305. Meaning those two players accounted for all but
three
of the Reb's yardage (one 5 yard carry by Green and one carry for a loss of 2 by Eason). I say we focus on Green-Ellis for Saturday...
Eastern Michigan
, 0-2, (0-1)
Last Game: L, Ball State, 38-16
Next Game: at Northern Illinois
Comment: After a one point loss to Miami (OH), Ball State went and killed Eastern Michigan with a 32 point win. This game is looking like it might be an easy one (and possibly a good time to rest Chris Nickson so his hamstring can fully heal).
at Auburn
, 1-1 (0-0), +7
Last Game: L, South Florida, 26-23
Next Game: Mississippi State
Comment: For the second week in a row, the Auburn offense scored exactly 23 points. However, five turnovers and a terrible night by Brandon Cox (16-of-35 with 2 picks) allowed the upstart Bulls to escape from Jordan-Hare with a win. (And prompted
Stewart Mandel
of SI to argue that the second best team in Florida plays in Tampa). Before the year I thought that Auburn and Georgia would be our two most difficult contests - this one now looks like a very winnable 'swing' game for Vandy.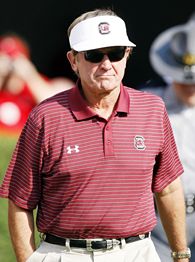 #23 Georgia
, 1-1 (0-1), +17
Last Game: L, South Carolina, 16-12
Next Game: vs Western Carolina
Comment: How quickly things change. After crushing a good Big XII team in Oklahoma State, Georgia exampled how deep the SEC is by losing 16-12 to visiting Carolina. In a game which saw 7 combined FGs, the difference was a first quarter TD by Carolina's Cory Boyd.
at #17 South Carolina
, 2-0 (1-0), +18
Last Game: W, at Georgia, 16-12
Next Game: vs South Carolina State
Comment: Does anyone else find it interesting that in places like Mississippi, Florida, Arizona, Oregon, and Washington the 'U of State' vs 'State State' is an epochal game, whereas in places like South Carolina the game is completely meaningless? I think that a book on the evolution and characteristics of school rivalries would be an interesting one. Why did Clemson become a football school instead of SC State? Why did Ohio State instead of Ohio U?
Miami (Ohio)
, 1-1 (1-0)
Last Game: L, at Minnesota, 41-35 (3OT)
Next Game: vs Cincinnati
Comment: Not enough Miami Magic this week. Despite scoring 17 points to tie in the final eight and a half minutes, Miami missed a FG for the win in 2OT. A Miami INT in 3OT set up the Golden Gopher victory. It'll be interesting to see how the RedHawks do at home against Cincinnati, a Big East team that crushed Oregon State last week.
at #5 Florida
, 2-0 (0-0), +74
Last Game: W, vs Troy, 59-31
Next Game: vs Tennessee
Comment: Florida ended their 'preseason' on a high note, taking a 49-7 lead at the half against the Men of Troy. Once again, Tim Tebow was incredible - 18-for-25 passing, 236 yards, 3 TD plus 17 carries for 93 yards and 2 TD. Should be a great game against the Vawls and a possible game of the year at LSU on October 6th.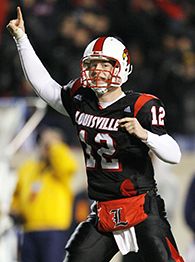 Kentucky
, 2-0 (0-0), +76
Last Game: W, Kent State, 56-20
Next Game: vs Louisville
Comment: They won big again, but their defense allowed 453 yards to the Golden Flashes. This was a tie game at the half before
six
second half touchdowns by the Cats. Should be a good one against Louisville, who had defense problems of their own against MTSU last week.
at #22 Tennessee
, 1-1 (0-0), +6
Last Game: W, Southern Miss, 39-19
Next Game: at Florida
Comment: Another 30+ points for the Vawls, but this game was also close at the half (17-to-16, UT). Coming back from suspension, LaMarcus Coker had just 11 yards on 4 carries while Arian Foster rushed for 125 on 23. Should be a lot of points at The Swamp on Saturday.
Wake Forest
, 0-2 (0-1)
Last Game: L, Nebraska, 20-17
Next Game: vs Army
Comment: Same Old Wake Forest? Despite playing the whole game with their backup QB (who was 12-of-24 with two picks), Wake lost to the #16 team in the country by just 3 points. That may saw something about the Huskers (we'll see against USC), but I think it says a heck of a lot about Wake. Despite being 0-2, the Deacons have definitely played better over their first two games than Vandy has.
Combined Record:
14-10