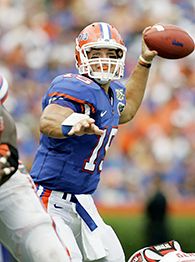 One aspect of college football coverage I've always been a little frustrated with is the overwhelming attention given to the schedule before the season - a time when very little is actually known, see Michigan - and virtually no attention once the season is underway. Therefore, I wanted to recap what our opponents did last week just to get a feel for how easy (or difficult) the road ahead might be.
Richmond
, 0-1 (0-0)
Last Game: L, at Vanderbilt, 41-17
Next Game: at Northeastern
Comment: Northeastern is their first CAA conference game... ever (they recently moved from the A-10).
Alabama
, 1-0 (0-0)
Last Game: W, vs Western Carolina, 52-6
Next Game: at Vanderbilt
Comment: 'Bama demolished the Catamounts with 575 total yards (including 313 rushing yards). Look for a game preview tomorrow.
Ole Miss
, 1-0 (0-0)
Last Game: W, at Memphis, 23-21
Next Game: Missouri
Comment: The Rebels are now 1-9 in their last 10 road games after escaping the Liberty Bowl. Ole Miss took a 23-0 lead in the third quarter, before Memphis scored three unanswered touchdowns and missed a two-point conversion with 31 seconds remaining that would have tied the game. Although Seth Adams played ok in his QB debut (19-of-30 for 201 yards and a TD), Ole Miss was outgained on the day 467 to 275. How did the Rebs win the game with so few yards? Five Memphis turnovers plus an interception return
and
a punt block for touchdowns.
Eastern Michigan
, 0-1, (0-0)
Last Game: L, at Pitt, 27-3
Next Game: Ball State
Comment: East Michigan scored first, before allowing 27 unanswered points in a 27-3 loss. All told, they were outgained by 212 yards. The Eagles slip back to the non-BCS level with their MAC home opener against Ball State, who lost a heartbreaker to Miami (Ohio).
at #17 Auburn
, 1-0 (0-0)
Last Game: W, vs Kansas State, 23-13
Next Game: South Florida
Comment: Auburn really struggled on offense, finally scoring with 2:01 left to take a 16-13 lead (their final TD came off a fumble recovery during K State's desperation drive). Also outgained, 316 to 291, they face a tough Big East team with something to prove in South Florida. Watch out.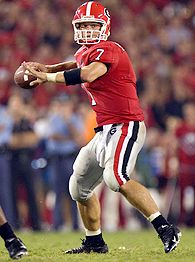 #11 Georgia
, 1-0 (0-0)
Last Game: W, vs Oklahoma State, 35-14
Next Game: South Carolina
Comment: A solid win and a very impressive effort by Matt Stafford (18-of-24, 234 yards, 2 TD, 0 INT). The Bulldogs outgained last year's Petro Sun Independence Bowl champion (over Alabama, no less) by 110 yards and shutout the Cowboys in the second half. Very interesting game against Carolina this weekend...
at South Carolina
, 1-0 (0-0)
Last Game: W, vs Louisiana-Lafayette, 28-14
Next Game: at Georgia
Comment: Well, they didn't win by much over the Ragin' Cajuns of the Sun Belt, but they were also without their starting QB (Mitchell was suspended for playing hooky - the 'Cocks split time between Tom Beecher and Chris Smelley). Mitchell will be back for the Georgia game, which should give a better picture of how good this team is.
Miami (Ohio)
, 1-0 (1-0)
Last Game: W, at Ball State, 14-13
Next Game: at Minnesota
Comment: A little Miami Magic, as the RedHawks scored a TD with 17 seconds remaining to escape with a win. And I may have been wrong about their passing reputation this year - the game winning drive involved four runs and one incomplete pass. They now face a Minnesota team who lost to fellow MAC-mate Bowling Green last week.
at #4 Florida
, 1-0 (0-0)
Last Game: W, vs Western Kentucky, 49-3
Next Game: Troy
Comment: Welcome to Division I-A, Hilltoppers. Tim Tebow threw for 300 yards (3 TD) and ran for 38 more (1 TD). Also, amazingly, there were no turnovers by either team. Florida gets another tune-up against the Men of Troy before facing Tennessee.
Kentucky
, 1-0 (0-0)
Last Game: W, vs Eastern Kentucky, 50-10
Next Game: Kent State
Comment: Bad weekend for directional Kentucky schools, as the Cats high-powered offense put up 568 yards against Eastern. Compare First Team All-SEC Andre' Woodson's line (20-of-29, 250 yards, 3 TD) with Chris Nickson's line (19-of-25, 284 yards, 4 TD).
at #24 Tennessee
, 0-1 (0-0)
Last Game: L, at Cal, 45-31
Next Game: Southern Miss
Comment: The vaunted UT defense gave up 45 points and 471 yards in the rematch against Cal. According to the AP Story, "Though both teams struggled on defense, Cal's offensive creativity and athleticism were too much for its SEC foe." Pac-10 football...
Wake Forest
, 0-1 (0-1)
Last Game: L, at Boston College, 38-28
Next Game: Nebraska
Comment: Wake Forest is tied with Florida State in the ACC Standings. The Deacons actually played ok, but threw four interceptions on their
60
passing attempts. Of bigger concern is QB Riley's Skinners separated shoulder, which will likely keep him out of the Nebraska game. After the Huskers, things get easier with Army, Maryland, and Duke.
Combined Record:
8-4
Alabama preview tomorrow...