As some of you may know, I've been off the blog these past two weeks while moving from Nashville to San Diego.
For me, one of the biggest transitions will be the transformation of Vanderbilt football (and basketball and baseball) from experiences to television shows. I came to Nashville in 2002, the same year as Bobby J (and Tim Corbin and Melanie Balcomb for that matter), and in the past six seasons have missed only one home football game. On top of that, I've had the pleasure of following the Dores to Atlanta, Oxford, Lexington, Fayetteville, Athens, Tuscaloosa, Knoxville, Starkville, and Columbia. Vanderbilt football is an
experience
for me, with a unique community and camaraderie, as much as it is a game. I will definitely miss that.
During the Eastern Michigan game, I was making the lonely drive from Van Horn, Texas to Yuma, Arizona and didn't even have Joe Fischer's narrative to keep me company. (Of course, as an XM subscriber, I was able to follow
every other team in the SEC
). Reading the box score and the recap makes everything seem so distant – how can I be frustrated with Chris Nickson's picks when I didn't see them happen? We won the game, right?
It will be better for me next weekend with the game on TV, but I can't recreate the unique feel of those 'lesser' non-conference games (especially with large Parents' Weekend crowds). Some other thoughts from the weekend:
Nickson and Mackenzi.
Last season, there seemed to be a discernible undercurrent of support for Mackenzi Adams to take Chris Nickson's spot as the starting QB. Part of that came from Nickson's early turnover struggles while part (most?) came from the bias that successful quarterbacks should look more like Peyton Manning than Tee Martin. Regardless, Nickson's great stretch to finish the year and a growing acknowledgment that the game of college football is changing (spread options, etc.) have helped solidify support for Nickson.
And then Chris throws four picks and everyone freaks out again. Remember the Ole Miss game? A banged-up Nickson was magnificent in leading Vandy's high-powered attack while a healthy Adams looked incompetent. The best contrast was seen through the first three drives of the game. First drive, Nickson goes 7 plays, 55 yards, and a TD. Second drive, Adams goes 3 plays, -9 yards, and a punt. Third drive, Nickson goes 10 plays, 80 yards, and a TD. I realize that I didn't see the EMU game, but I have a hard time believing that Chris doesn't give Vandy its best chance of winning.
Imbalance of Power.
The SEC East is now 6-3 against the West. Overall (and this can be misleading because it includes intra-division games as both a win and a loss) the West is 16-12; the East is 22-6.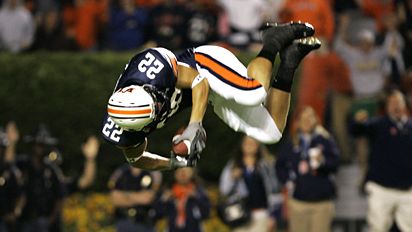 DJ Moore Flips.
It may be just me, but I love that
Reggie Bush flip
into the endzone that DJ Moore emulated on Saturday. It is decidedly unsportsmanlike, but still – I think it's a neat way to celebrate a score. I tend to avoid having 'favorite players', but I'm thinking of making an exception for DJ Moore. What a playmaker
Kentucky Kool-Aid.
On ESPN College Football Final, both Desmond Howard and Lou Holtz argued that Kentucky was in their Top
Five
. The
AP Poll
today put them at #8. Seriously, nothing makes writers overreact like high powered offenses – just look at Louisville or West Virginia or Michigan. I would wager that Kentucky loses at least two of their next three games against teams that can play defense: Carolina, LSU, and Florida. And if they win all three, we can put them in the Top Five.
Upset Saturday?
If five teams out of the top ten lose in the same weekend, does that say more about crazy upsets or more about the inability of pollsters to identify the top ten teams? As much as everyone hates the BCS and Harris Poll, they are right about not releasing their rankings until October.
I can't make the trip, but that doesn't mean I'm not psyched for this Saturday's game on the plains. It's not the same experience, but it's still a darn good TV show (even if it does start at 9:30 am).