It's pretty obvious that Vanderbilt's getting more talented.
As some of you might know,
Todd McShay
is a college football writer for ESPN.com who specializes in scouting players for the NFL Draft. Think of him as Mel Kiper's understudy. Yesterday he profiled different attributes of the 'prototypical college athlete' at each position and then provided the best three examples within each category.
It's the sort of article that's marginally interesting, but typically focuses on the guys at USC, Notre Dame, Florida, and so on – guys who will really be making an impact in the NFL. But to my amazement I spotted a Vandy guy here. And there. And all over these lists.
So, the following violates all ESPN Insider appropriateness, but is reprinted for your enjoyment.
Wide Receivers




Route Running


1. Earl Bennett, Vandy
2. Harry Douglas, Louisville
3. D.J. Hall, Alabama






Pass Catching


1. Jarett Dillard, Rice
2. Earl Bennett, Vandy
3. Dorien Bryant, Purdue





Durability


1. Earl Bennett, Vandy
2. Dorien Bryant, Purdue
3. Harry Douglas, Louisville





Quarterback




Set-Up Quickness


1. John David Booty, USC
2. Chris Nickson, Vandy
3. Colt McCoy, Texas






Mobility


1. Pat White, WVU
2. Juice Williams, Illinois
3. Chris Nickson, Vandy



Linebackers


Durability


1. Vince Hall, Virginia Tech
2. Keith Rivers, USC
3. Jonathan Goff, Vandy
That's impressive company and impressive praise from an NFL Draft prognosticator. If Goff has a good year (think Patrick Willis from last season) and Bennett goes pro (which I think is unlikely), could both be taken in the first round?
Honestly, the answer is probably no – I see both as first day guys, but probably not first rounders – but there certainly is a chance of it happening.
Which got me thinking, in the BCS Era have college teammates ever been drafted in the first round of the NFL Draft without reaching a bowl game the previous season? I guessed Mario Williams and NC State in 2006, before researching their epic 14-0 Meineke Car Care Bowl victory over South Florida in Bank of America Stadium…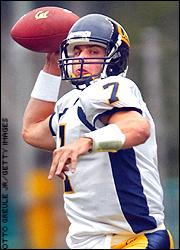 The answer? Not exactly. I found two instances of first round teammates who hadn't reached bowls. In the 2003 draft, Cal had Kyle Boller and Nnamdi Asomugha taken. In the 2002-03 season, Cal finished 7-5 (4-4) but did not reach a bowl game because of an NCAA bowl probation. That was Jeff Tedford's first season in Berserk-ly, and with a 1-10 team the previous year, the school probably thought it was pretty safe to accept the bowl ban. UCLA played in the Las Vegas Bowl with an identical 7-5 (4-4) record that included a loss at Cal.
The other example of non-bowl teammates in the first round occurred in the 2000 draft when Walter Paton's alma mater, Jackson State, saw two players taken. As a Division I-AA school, Jackson State had no chance of a bowl – but remarkably they failed to even reach the I-AA playoffs that season with two NFL first rounders.
Click here
for a list of all first round teammates since the BCS began in 1998-99. It's an interesting list – look at all those Miami players (and notice the absence of Clinton Portis, Frank Gore, and Devin Hester who were all taken
after
the first round).